Embla® N7000 – Versatile, Advanced and Superior PSG Amplifier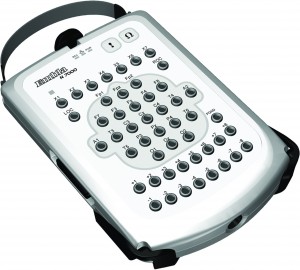 The Embla N7000 recording system is a result of almost two decades of experience in the field of sleep medicine. The system offers a high degree of flexibility and impeccable signal quality to meet the demanding needs of clinical work and research. The N7000 recorder is indispensable in a wide range of settings and represents the integration of advanced digital technology and precision engineering into an ergonomically designed PSG system.
Advanced and superior
Designed for routine and expanded sleep protocols, with up to 60 channels and full 10/20 EEG functionality
Ideal for routine sleep studies and research applications
Versatile Design
The patient interface of the N7000 consists of the Bedside Unit and the Patient Unit – both are lightweight and feature quick-disconnect for easy patient mobility
The clinically enhanced Patient Unit greatly reduces cabling requirements for signals such as respiratory effort, snoring, flow and SpO2
The Bedside Unit can be comfortably worn by the patient with a strap attachment for mobility
Powerful and flexible PSG software
Industry leading and AASM compliant
Innovative tools to save time and optimize study quality
Designed around common tasks and natural workflow
Additional derived signals including flow, lung volume and RMI when Embla XactTrace™ effort belts are used
Embla® S4500 – Durable, reliable and easy-to-use PSG amplifier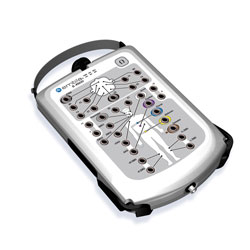 The Embla S4500 PSG amplifier features an intuitive and ergonomic design that includes a color-coded input panel to optimize efficiency during the patient set up process. This dual component system requires minimal cabling, has been specifically designed to complement workflow, and complies with AASM guidelines. The Embla S4500 is so robust and reliable, you will be expanding on this platform for years to come.
Reliable and durable
Designed to reject signal interference
Records up to 32 channels
Streamlined dual component design
Minimized cabling increases patient comfort
Integrated steel luer lock pressure transducer
Intuitive design
Color-coded input panel featuring patient layout
Supports and accelerates the training process
Built-in impedance button with indicator lights
One step disconnect simplifies unhooking the patient
2-pin sensor inputs reduce hookup time and ensure polarity
Powerful, flexible PSG software
Industry leading and AASM compliant PSG software
Innovative tools to save time and optimize study quality
Designed around common tasks and natural workflow
Additional derived signals including flow, lung volume and RMI when Embla XactTrace™ effort belts are used
Embla® MDrive™ – Wireless, integrated and flexible communication unit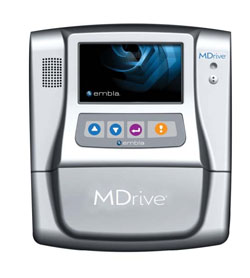 The Embla MDrive is the specialized platform for in-lab PSG applications featuring wireless technology with an IP camera interface, making installation quick and easy with no need for additional cables. This high performance device also offers a high quality color LCD screen for signal display, convenient for bedside bio-calibration and impedance checks, and includes a removable memory card for raw data backup. The MDrive interfaces with the Embla S4500 or N7000 amplifier and can be used during an attended or ambulatory setting with up to 8 additional DC inputs for expanded collection. The MDrive is compatible with all of the Embla PSG software platforms*.
*Sandman® 10 and RemLogic™
Flexible
Attended Data Collection – wireless or via network cable – optional backup of raw data on removable SD card
Ambulatory Data Collection – collected data stored on removable SD card
Choose from preset or customizable montages
Real time impedance and signal quality check at bedside
Ideal for all patients, including pediatric
Custom designed wall-mounted or bedside cradle
Integrated
Minimize cost, decrease installation time, and eliminate cabling
Integrated 3-port network switch for connecting IP Video and auxiliary IP network devices
Easy patient set up with integrated LCD screen for bedside impedance and signal check
8 additional DC Inputs for expanded studies
Plug and play interface with a series of external PAP, EtCO2 and other industry leading diagnostic devices
Integrated 3-port network switch for connecting IP Video and auxiliary IP network devices
Embletta® MPR PG and PSG – The Future of Sleep Recording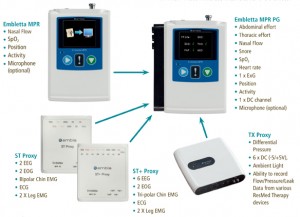 The Embletta Multi Parameter Recording (MPR) Family
Scalable from Level III to Full Level I PSG
Multi-Night Recording for HST
LCD Screen for Patient Set-Up, Signal Quality Check & Viewing Traces
Bio-Sensor Auto Start
RemLogic Software Included
Hi-Quality Microphone (optional)
TX Proxy Adds Wireless Interface for DC Devices
Bio-Sensor Auto Start
No lost recordings because a patient forgets to push a button
Wireless Integration of ResMed APAP
Whether auto titration or verification of therapy efficacy, our wireless TX Proxy provides an elegant and simple interface
Technology that Adapts to Your Changing Requirements
Pioneered by Embla in the original Embletta, the Proxy comes of age in the Multi Parameter Recorder with the ST and ST+ Proxies
OCST Taken to the Next Level
By simply adding the ST Proxy to the MPR PG you have all the information you need to stage sleep and determine Sleep Time. True AHI calculation based on True Sleep Time
On Screen Signal Review Takes the Guess Work Out of Signal Quality
By visually confirming the signal quality, you ensure the best possible recording while the patient is in their own bed and outside your ability to intervene
Full Level I and Level II Testing
The ST+ Proxy expands the MPR PG with its Tx Therapy Proxy, into a full Level I PSG system. 6 additional EEG channels, 2 EOG, 3 Chin EMG channels, 2 Limb Movement and 1 ECG in addition to the 22 Channels of the MPR PG with Tx Proxy… with all of the derivative channels, a total of 65 channels of data.
View on Line or After the Fact
The ST+ Proxy allows you turn your Level III portable into a fully functioning Level I PSG system by adding just a computer and video camera. Used in a laboratory, ICU or patient room, the MPR PG with ST+ provides the most cost effective system configured for full PSG available today.
Embla® RemLogic™ PSG Software- The world's most widely accepted sleep diagnostic software
Embla RemLogic sleep diagnostic software is a dynamic platform that offers the perfect combination of innovation and ease of use. RemLogic is ideal for all study types, ranging from the basic detection of obstructive sleep apnea to more complex studies that require additional EEG and DC channels. RemLogic exceeds the American Academy of Sleep Medicine (AASM) scoring criteria and contains an abundance of customizable options that allow you to tailor data acquisition and scoring preferences to best suit your needs. RemLogic also offers time-saving tools that streamline workflow and maximize efficiency.
Seamless digital interface to ResMed Therapy devices
Automatic detection of therapy type and settings
No additional configuration required
Extensive data export capabilities
Therapy titration reporting offers PAP and titration statistics
Powerful and flexible software
Score studies with more efficiency than ever with customizable right-click event scoring menus, single-click event placement, and channel-assigned event placement
Patient charting tool to automate paper charts
Customize initial, collection, and summary observation charts
Schedule prompts for entering specific information in collection observations chart
Enter and view patient observations in pop up box that appears at selected intervals
Exceeds American Academy of Sleep Medicine guidelines for staging and events
Designed to compliment natural workflow during collection and scoring of data
Data trends, single-sheet overview, and event lists for quick reference of raw data and scored events
Derived signals such as XFlow™, XSum™ and RMI when Embla XactTrace™ respiratory belts are used
Powerful Export/Import tools
Reports
A number of predefined or customizable reports can be generated and exported including:
Polysomnography report containing either software detected or user defined events
Sleep stage report
PLM, titration, pediatric
Reports exported in multiple file formats including PDF, TXT, RTF, EDF, or ASCI II
Versatile data acquisition choices for RemLogic
Embla MDrive® RemLogic now supports the MDrive Wireless Communication Unit in both the N7000 and S4500 Amplifiers. The MDrive offers a high quality color LCD screen for signal display, convenient for bedside bio-calibration and impedance checks, and includes a removable memory card for raw data backup.
Embla N7000™ The result of over a decade of experience in the field of sleep medicine, this 60 channel amplifier offers a high degree of flexibility and impeccable signal quality to meet the demanding needs of clinical work and research. The N7000 amplifier represents the integration of advanced digital technology and precision engineering into an ergonomically designed PSG system.
Embla S4500™ Features a simplified design that includes a color-coded input panel to optimize efficiency during the patient set up process. This 32 channel, dual component system requires minimal cabling, has been specifically designed to compliment workflow, and complies with AASM guidelines.
Embletta MPR System with modular flexibility allows for the collection of Level 4 to Level 1 recordings. The Embletta MPR System can be used for Out of Center, Ambulatory or Level 1 PSG.
Sandman® Elite™ PSG Software – Elite by Design
Embla Sandman Elite sleep diagnostic software has maintained its "Elite" reputation in the field of sleep diagnostics for over 15 years. This well established and widely accepted software platform delivers the ideal combination of ease and flexibility that is valued by thousands of sleep professionals throughout the world. Sandman Elite is designed to meet the needs of clinical and research facilities large or small.
High Quality
Exceptional recording, scoring and data management features
Records high-quality data to produce first-class studies and reports for your laboratory
Fully integrated Out of Center Sleep Testing with Embletta MPR
Microsoft® Windows 7, 64-bit compatible
Tools You Need
Choose from a complete range of system options to customize tools specific to your laboratory's requirements

Select from a range of modules available for computer assisted scoring, data export, and database management
Bi-directional support of HL7 integration using our exclusive Enterprise™ Practice Management Software
Craft reports tools with customized formulas, layout, and logo

Intuitive and easy to use Sandman Elite Software is designed with user configurable tools that are available in both Collection and Analysis. Sandman Elite Software offers Real Time On-Screen Digital Video that can be adjusted for increased frame rates during video capture and, when used with the Embla MDrive, will support IP Video collection.
Customizable Toolbars allow for selection of features and tools to streamline workflow and increase collection and scoring efficiency.
Customizable Signal windows and workspaces allow users to view multiple signal windows at different time bases and allow for the simultaneous review of data from different points in time. This useful tool can be used during collection and allows review of look back data and real time data simultaneously.
Digital Display and Running Digital Displays of alpha numeric data for any channel or event tag can be customized to view values of signals as they are collected.
Trend Windows and Event Windows are customizable and allow for quick and easy navigation to specific areas of the recording. Scoring during Collection or Analysis is performed with the Single Click Event placement option that uses channel specific event definitions so events can be added with a single mouse click.
Patient Observations can be customized and allows for collection of observations during acquisition at timed intervals or on demand and is available for review when the study is opened in Analysis.
RDI Summary tool provides information to the recording technologist about the effectiveness of changes in therapy during collection.
Embla® Enterprise™ – Sleep Business Software
The Enterprise™ Sleep Business Management System is compatible with any PSG system and is designed to optimize the efficiency of your sleep business through streamlining workflow, providing a single point of data entry, easily compiling useful reports and tracking metrics.
Embla Enterprise is rich with time and money saving tools that allow users to:
Manage patient care and patient data
Collect and report data required to achieve accreditation
Build transcripts for patient forms and interpretation reports
Manage questionnaire data
Import data seamlessly from any diagnostic system
Interface with Hospital HL7 Systems
Create a paperless environment for your lab through electronic document management
Manage Patient Care
Scheduling
Embla Enterprise allows users to quickly and easily schedule and reschedule patients. User customizable study types allow you to also schedule non-diagnostic appointments like consults, follow-ups, and orientations. Enterprise also tracks resource workload for each staff member to help ensure quality patient care.
Schedule patients using drag and drop functionality or use the wizard to find available times and resources
Track patient standby lists
Create an urgent/first available list
Monitor and track cancellations
LabView allows you to track all patients and see valuable workflow information
ICD-9 and ICD-10 code supported
Patient Follow-up
Tasks and reminders can be set for patients, studies, and staff. An "Enterprise Today" view provides a clear view of the required activities and patient schedule for a customizable period of time. Tasks can be assigned to specific individuals or groups and can also be set to reoccur. Reports provide statistics on tasks completed and overdue to help manage patient workflow and staff efficiency.
Document Management
Enterprise features a robust, secure system for managing all patient documents. All patient documentation can be easily attached electronically and may be assigned for access by other users.
Attach any type document to the patient's electronic chart
Paper documents can be easily scanned to patient charts
Customizable templates automate document generation
Collect and Report Data Required to Achieve Accreditation
Embla Enterprise includes tools to assist in the accreditation process:
Track patient communication
Maintain patient sleep study history
Easily generate reports to include study types, referrals, insurance, quality assurance and outcomes
Produce patient questionnaire results
Tracking and management of patient follow-up activities
Sleep facility workflow/efficiency statistics
Maintenance of electronic patient charts
Query Manager
The Query Manager is a flexible tool used to create extensive queries on patient data stored in the Enterprise SQL database.
Search by customizable patient groups
Analyze study information based on patient outcomes
Search for patients based on any combination of database fields
Export query results into other applications such as Microsoft® Excel®
Database is automatically populated with clinical data from every study
Print mailing labels based on query outcome
Generate epidemiological statistics on patient population
Queries can be built and saved to easily be rerun in the future.
Transcript Builder
This feature is designed to simplify the process of designing document and transcription templates. The user has the ability to easily customize these documents for individual patients and users.
Save time and achieve consistent formatting by creating, customizing, and sharing blocks of text that the user can "drag and drop" to the Transcript Editor
Use database tags to extract system information such as patient demographics, clinical parameters and questionnaire responses
Use the IntelliSense™ feature to minimize user error and automate the process of inserting database field tags
Supports electronic signatures
Questionnaire Manager
Enterprise features an online questionnaire system to automate the process of requesting patient information and recording their responses.
Requests to complete questionnaires can be e-mailed to patients along with a web link to the questionnaire website
Enterprise indicates if and when the questionnaire is completed and allows the patient's responses to be viewed or printed
Statistical reports can provide metrics from responses
Questionnaires can also be completed in the lab through the Enterprise Client or by patients on a kiosk computer, laptop, tablet PC, etc.
The Questionnaire Designer allows users to easily create or modify questionnaires
Manage Your Business
Enterprise Business Reports can track important operational metrics, giving valuable insight into profit projections and how to allocate marketing efforts for greater success. Track number of referrals from each physician, by region, referral source and payer. These reports help monitor the operation effectively and allows maximised resource utilization.

Enterprise allows you to view, track, and trend:
Referral statistics
Workflow statistics
Study statistics
Cancellation information
Patient demographic
Optional Modules
The Enterprise System was designed with flexibility in mind and additional modules may be added to better facilities' needs.
Multi-Center Module

The Enterprise Multi-Center Module allows multiple sleep facilities to be managed from a single location. The data collected from the satellite facilities are consolidated into a single database, giving a clear overview of the organization. The Enterprise Scheduler can be used to schedule across facilities and Enterprise Business Reports can be categorized by individual facilities. Reports can be generated on individual facilities or on the organization as a whole.

Interface Modules

Embla Connect provides a flexible interface solution for a wide range of systems. Multiple data formats are supported including HL7, XML, and GDT.

Inbound interfaces including ADT (Admissions Discharge and Transfers), Orders and Scheduling
Outbound interfaces to provide patient diagnosis from the study including appropriate billing codes, documents and links to documents in the Enterprise FileServer.

Universal Data Import – Interface with any PSG System

The Universal Data Import (UDI) utility in Enterprise enables the seamless import of data from any diagnostic system.
Automatically import and populate your existing custom templates
Import or batch process information from previous studies
Export data from any system capable of creating standard format reports, such as Microsoft® Word, Microsoft® Excel®, and Adobe® PDF
Create custom database fields from a library of several data types
Experience the flexibility of UDI: Interface with any major PSG application, read other diagnostic reports including CPAP Compliance Data, EEG Studies, results from PFTs and ABGs, etc.
Access and transmit data from report templates, study forms, sleep parameters, customized fields and reports through HL7 systems
Perform queries on any combination of custom fields.
Integration with Natus Neurology* Sleep Software for a Streamlined Solution to Patient Management
The Enterprise Client software resides on the PSG acquisition computers and is the front end for all information access and patient management tasks. The software can also be installed on additional office computers throughout the facility for access by physicians and administrative staff.
Single point of data entry reduces errors and saves time
Technicians are promptly notified of any special patient needs prior to arrival
Tonight's patients are already entered and able to be viewed in the PSG system
Patient's scored data can be accessed from Enterprise with a single click
Study Reports are automatically exported from the PSG system to the Enterprise file server
Clinical data parameters are imported to Enterprise and can be used for interpretation reports or queried for additional information
The "Sleep Overview" Graphics may be exported from the PSG system and available in Enterprise
Data can be scheduled to be backed up automatically

*With select Natus Neurology PSG software including; Remlogic™ and Sandman®.

* The Enterprise Server is the centralized data repository for the sleep facility. Residing on a choice of SQL Express or Microsoft® SQL Server, it can grow and expand as your program does.
WatchPAT ™- Medical Information [in] your Fingertip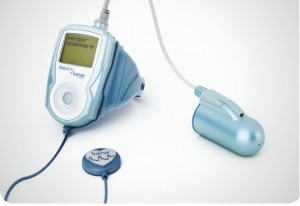 WatchPAT – home sleep apnea testing made simple

WatchPAT is an innovative FDA-cleared wrist mounted device for the diagnosis of Sleep Breathing Disorders (SBD), which allows testing in the comfort of the patient's own home. WatchPAT has been clinically validated against the "Gold Standard", polysomnography (PSG), with a documented correlation of up to 90% to PSG.1
The WatchPAT home sleep apnea test is recommended by leading US cardiologists, including Dr. David Vorchheimer MD and Dr. Larry Chinitz MD, as a convenient home sleep monitor for sleep apnea diagnosis at home.

That fact alone may prove to be a lifeline for the millions of undiagnosed patients who are unwilling to spend the night away from home in a hospital sleep center. And for those patients who are waiting for a polysomnography (PSG) but cannot be tested due to sleep center backlog, WatchPAT ™ offers an immediate solution. WatchPAT ™ has been validated against PSG.
Simple and comfortable for outstanding patient compliance
Clinically reliable with less than 1% failure rate
"Total Sleep Time™" for the most accurate AHI
Complete sleep architecture for a comprehensive diagnosis
Scalable cost effective solution for high volume workflow
Automatically generated report for fast diagnosis and treatment turnaround
zzzPATTM software with an advanced automatic algorithm for scoring of respiratory events
CloudPATTM cloud based IT solution for convenient sleep diagnosis and secure patient data transfers
Central + enable specific identification of Central Sleep Apnea (CSA)
Nonin LifeSense® Tabletop Capnography and Pulse Oximetry Monitor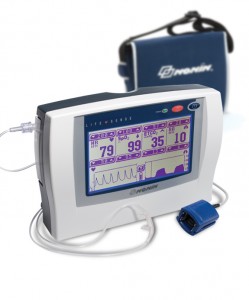 Nonin Medical's LifeSense widescreen touch-panel display monitor offers proven PureSAT® SpO2 and Nonin sidestream EtCO2 technologies for a wide range of clinical settings for both intubated and non-intubated patients. Portable, accurate and cost-effective, LifeSense is perfect for monitoring in and outside the hospital setting. Choose from a full line of LifeSense-compatible Nonin PureLight® reusable and disposable pulse oximetry sensors for infants to adults.
Product Highlights:
Meets rigorous ISO requirements for EMS transport
Widescreen touch-panel backlit LCD display
Nonin PureSAT SpO2 technology
Nonin sidestream EtCO2 technology
Numerical pulse rate and respiratory rate display
Numerical EtCO2 and SpO2 display
Four-hour trending of pulse rate, SpO2, respiration rate and EtCO2
Capnograph and plethysmograph display
Audible and visual alarms
Data output via RS-232 port
Full line of infant to adult SpO2 sensors (reusable and disposable)
Full range of infant to adult sampling lines
Carrying bag
Adjustable mounting clamp
TrendSense memory module, download cable and software
Sens DAC Digital to analog converter cables for pulse and capnography
Copyrights ©2019 • All Rights Reserved • Easmed