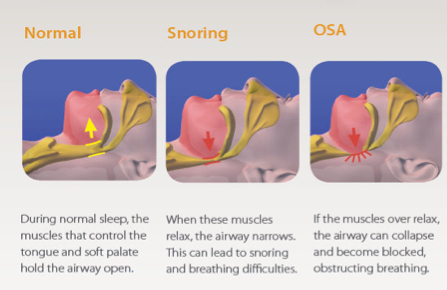 Snoring, Choking, Gasping in your sleep – If any of these 3 causes you to awaken from your sleep, or if your bed partner tells you that you do that in your sleep, you may be suffering from Obstructive Sleep Apnea (OSA).
If your sleep is often interrupted because of your breathing, you could be suffering from one of spectrum of diseases related to Sleep Breathing Disorder (SDB). These conditions can range from simple snorers to patients with excessive daytime sleepiness to Obstructive Sleep Apnea.
Snoring occurs when our respiratory structures vibrate. The sound is further enhanced when the soft tissues get floppier as we grow older or when our airway narrows when we gain weight. When we sleep our body and muscles relaxes, the soft palate, tonsils, uvula or tongue collapses. That's when we snore.
Simple snorers are those who do not have their sleep or breathing disrupted. There are snorers whose flow of breaths is reduced due to these anatomic structures collapsing resulting in fragmented sleep. They would experience excessive daytime sleepiness. This is classified as Upper Airway Resistance Syndrome (UARS), characterized by frequent and repetitive arousal of more than 10 per hour and fragmented sleep, with and without snoring. Snoring is one of the symptoms of sleep apnea.
Obstructive Sleep Apnea is a condition in which your airway has collapsed and no air gets into your lungs, resulting in you choking or gasping for air. Your bed partner may awaken you at this juncture.
Apnea means you have stopped breathing for continuous 10 seconds and this may occur many times in an hour and throughout your sleep time. Hypopnea means your oxygen saturation dropped by 3% due to reduced air intake or obstruction of your airway. Combine Apnea and Hypopnea, an index can be calculated to measure the severity of your condition. The index is termed AHI, the classification of severity is defined as mild ≥5, moderate if ≥15 and severe if ≥30.
Measurement of Respiratory Disturbance Index (RDI) is a total of AHI and UARS.