Drill, Debrider, Saws
Grace Medical Dragonfly Drill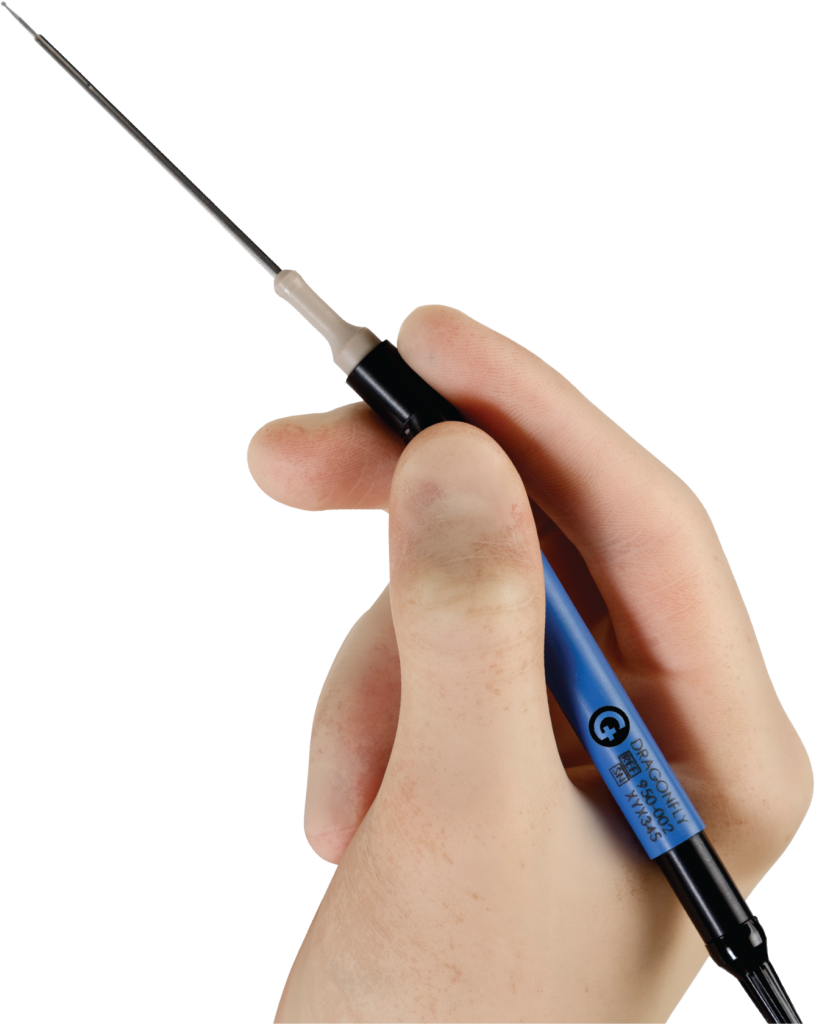 GRACE MEDICAL's DragonFly™ Surgical Drill System, powered by InvisiDrive™, represents a model of user-friendly ergonomics. The handpiece is small in size, light in weight and hermetically-sealed to ensure optimal and consistent performance. A magnetic coupling mechanism allows for the quick and easy exchange of burs. In order to achieve pinpoint access, the system affords the opportunity to choose the appropriate bur length. To maximize visualization, a series of adaptors provides a means to vary the angulation of the burs. In addition to these dynamic features, the system employs patented BurShield™ technology to protect soft tissue and intraoperative dressing.
Magnetic coupling for quick and easy exchange of burs
Small in size, light in weight and hermetically-sealed for optimal performance
Patented BurShield™ technology for protection of soft tissue and intraoperative dressing
Grace Dragonfly Surgical Drill Brochure
Stryker CORE 2 Console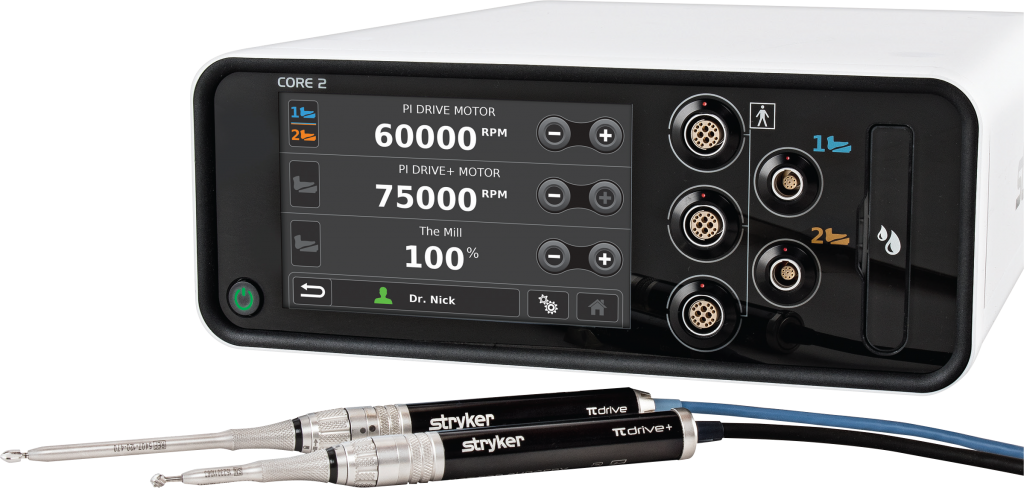 The STRYKER CORE 2 (Consolidated Operating Room Equipment) Console provides a convenient, single control centre for a multitude of Stryker powered instruments, including the following Stryker Drills, Saws and Debrider technology.
Stryker Core 2 Console Brochure
STRYKER Pi Drive Drill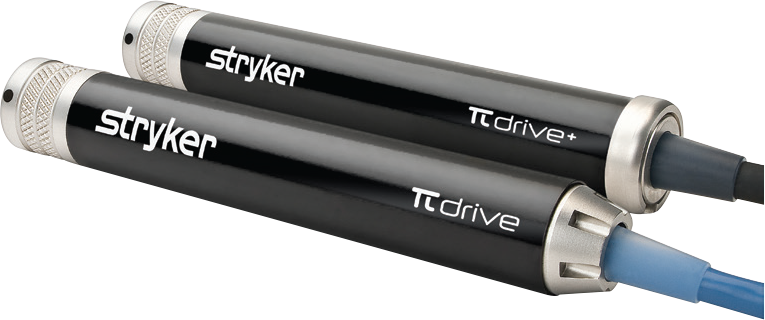 Stryker's πdrive Technology—a re-imagined motor that reconfigures internal components to create efficient, lightweight power and performance.
We've replaced the nonfunctioning steel core in conventional motors with magnets in a "pie" configuration that use space efficiently and reduce the size of the overall housing. Instead of traditional round wiring looped around the core, we've used flat wiring that completely encases it. The result is a light, powerful motor that runs long and stays cool.
At the core is our patented πdrive design, a re-imagined motor that maximizes the drill design by reconfiguring internal components. The πdrive replaces the functioning steel core with magnets in a "pie" configuration, which allowed us to optimize the space and reduce the housing size. Similarly, the round wiring looped around the core is exchanged for flat wiring that completely encases it, generating an efficient motor design that can run long and stay cool. This motor also has an increased sensitivity to I.D. Touch software so you can adjust the drill to preference.
STRYKER Saws

Solution for a variety of small bone procedures
Combined with a variety of different cutting accessories, TPX enables the cutting and shaping of bone for podiatry, foot and ankle, sports medicine, hand and wrist, and oral maxillofacial procedures.
Intuitive design of the device allows surgeons to focus on the procedure at hand
Ergonomic design that improves ease of use enabling a more intuitive assembly process
Distinct connection points enable a confident connection
Durable handpieces made out of stainless steel
Specialized handpieces consist of four saws, a micro drill, universal driver, and wire driver
I.D. Touch capabilities on the Core 2 Console with the sagittal saw and micro drill handpieces
STRYKER Debrider
ESSx® Microdebrider
The ergonomically advanced ESSx Microdebrider brings power and efficiency to ear, nose and throat procedures. It lets you shave and remove obstructive or diseased tissue with optimal access and precision.
Choose from a wide range of cutters and burs custom engineered for every task—with straight and curved models for the comfort and control you need.
The ESSx Microdebrider's patented flush feature lets you use the handpiece's own integrated irrigation outflow to remove clogs quickly and easily.