Microscope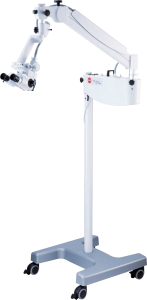 SOM® microscopes provide crystal-clear three-dimensional imaging with great depth of focus and extraordinary color brilliance. Even the finest structures and the smallest details are clearly visible. This gives you maximum control over your work – the ideal prerequisite for a reliable diagnosis.

The optional 40 mm manual fine focus lets you conveniently focus on the desired area and find the correct working distance without having to change your preferred position.
Kaps ENT examination microscopes can be supplied with a variety of lighting systems.
Cold Light Illumination – A cold light source emits light with a greatly reduced infrared component. The high light intensity in the visible spectrum guarantees a perfect view of even the smallest detail.

LED Illumination – The high-contrast color temperature of the optional LED lighting is very similar to daylight. This, and its' even illumination of the field of view, contributes to fatigue-free working. Other advantages are the long service life of some 50,000 hours, and low power consumption. Added to this, the LED lighting generates very little warmth and is extremely quiet. The LED lighting can be integrated in the swivel arm or mounted in the microscope head.