This page comprises of Lumenis CO2 laser solutions. They are uniquely designed to provide diverse treatment options in the operating room or the outpatient setting, under local or complete anesthesia. Partial list of approved indications for use includes: Stapedotomy, Acoustic Neuroma, Cholesteatoma, Eustachian tube dysfunction, Polyps and granulation tissue in external ear canal, Otitis media, Congenital aural atresia, Otosclerosis, Revision stapedotomy, Cochlear implant revision.
Skip to any one of these sections:
AcuPulse™ DUO
The versatility to choose the right treatment for your patient. AcuPulse DUO CO2 laser, a unique combination of CO2 laser fiber and free beam energy delivery in a single device. 
AcuPulse DUO Unique Features
Seamless alternation between the CO2 laser FreeBeam and Fiber delivery modes 
Three power and time exposure modes that enables customized energy delivery for optimal tissue management:

CW – Steady, continuous beam of energy. Optimal for when coagulation is desirable 
PULSER – Constant frequency with variable pulse length yields the desired average power 
SUPER PULSE – Continuous series of short duration, high peak power pulses. Optimal for char free outcome 

Advanced, electronically controlled air management system. 
Embedded procedure and assembly videos in the user interface 
99 memories can be integrated and saved on the system for varies users
Click here to download the AcuPulse DUO Brochure.
UltraPulse® DUO CO2 Surgical Laser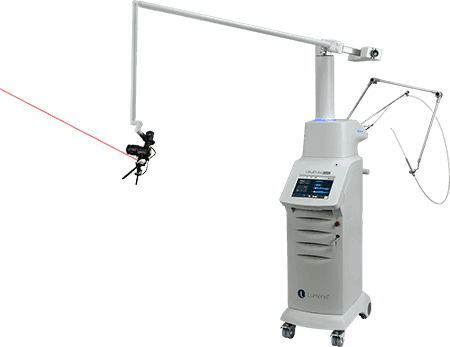 Achieve the Master's Touch
When it comes to precision and high-end performance, UltraPulse CO2 surgical laser is the ultimate solution. Now, Lumenis brings to you the UltraPulse DUO, a CO2 laser system that caters to physicians and surgical centers who demand excellence from themselves and their laser system. 
UltraPulse DUO Unique Features
Combining Unparalleled Precision with Flexibility: UltraPulse DUO CO₂ surgical laser combines the unparalleled precision of the Digital AcuBlade™ Scanning Micromanipulator with the flexibility of the FiberLase CO₂ laser fiber. Seamlessly alternate between the CO₂ energy deliveries to ensure individualized patient care. 
Address unexpected challenges: With the vital combination of precision and flexibility, you can be prepared to address unexpected challenges during a procedure. The comprehensive set of tools enables a complete operation without the need for additional procedures and hospitalization. 
Experience clear and char-free margins: clear pathological outcomes as a result of adequate margin visibility. Clear and clean margins are a true value in pathology and a top goal in today's operating room. 
Smart tissue management: High preservation of adjacent delicate tissue results in fewer adverse events, adhesions and quicker recovery time. 
Progress to the outpatient environment: Expand out of the traditional OR setting and periodically treat on recurring conditions under local anesthesia in the outpatient setting.
Click to download the UltraPulse DUO Brochure
Lumenis CO₂ Free Beam Laser Accessories
CO₂ Lasers Free Beam Accessories for Head & Neck
Precise and Reproducible performance
As the CO₂ Laser market pioneer in the Head & Neck specialty, Lumenis has been developing over the years a very wide range of FreeBeam accessories that are tailor made to the designated anatomy and all are based on surgeons' feedbacks and requirements.
The comprehensive variety of CO₂ laser accessories for Head & Neck are designed for incision, excision, vaporization and ablation of soft tissue in the ear, nasal cavity, oral cavity, pharynx, larynx and upper trachea. The CO₂ laser parameters and delivery modes can be adjusted to allow precision and simultaneous microvascular hemostasis. In Head & Neck, the Lumenis CO₂ laser has become the hallmark of precision in delicate spaces with minimal thermal damage.
Micromanipulators Coupled To Surgical Microscopes
For CO₂ laser microsurgery, free-beam surgical CO₂ lasers are used with micromanipulators coupled to surgical microscopes.
The invisible carbon dioxide laser treatment beam and the red helium-neon laser aiming beam are focused at the same working distance as the microscope. The micromanipulator has a gimbaled mirror, situated in the view path of the surgeon, to direct the laser beams onto the tissue site. The surgeon manipulates a joystick to tilt the mirror and direct the laser beam precisely onto the desired target tissue.
To accommodate the physical dimensions of various microscopes, there are few models of the AcuSpot micromanipulator. Each is compatible with different microscope models (in example: Zeiss and Leica microscopes)
Digital AcuBlade Scanning Micromanipulator
The Digital AcuBlade Micromanipulator with SurgiTouch scanner delivers laser energy inside a user defined geometric shape. The rapid motion of the scanner, faster than a human hand can produce, takes the energy delivery and entire operation to its highest precision.
When the goal is to treat the pathology within the organ with maximum efficacy, while preserving organ functionality and minimizing adjacent healthy tissue damage, the Digital AcuBlade micromanipulator is an indispensable tool that can be used to safely incise, excise or ablate tissue, reducing the risk of complications. The Digital AcuBlade micromanipulator takes the performance of Line-of-site CO2 laser free beam, to a whole new sphere of precision and controlled tissue management.
The Digital AcuBlade delivers nearly char free, and shaped cutting, vaporization, and ablation to precise size and depth. While lasing, the surgeon uses the special joystick to direct the scan pattern onto the tissue target. The scanner moves the laser beam faster than a human hand can, thereby minimizing heat built up in tissue and creating virtually no char. Precision is assured by the nearly char-free and bloodless visual field and reproducible treatment depth.
Digital AcuBlade unique features:
Maximum control over incision length, ablation area and treatment depth.
Replicated tissue interaction, customized to patient anatomy and the shape of the undesired tissue.
Reduced operating time compared to conventional CO₂ laser microsurgery.
CO₂ Free Beam accessories are uniquely compliant with Lumenis free-beam surgical CO₂ laser models that direct the laser energy through an articulated arm: AcuPulse DUO, AcuPulse, UltraPulse DUO and UltraPulse.
Click here to download the Digital AcuBlade Brochure.
Lumenis' CO₂ laser fibers set the standard for durability, high energy delivery, and performance. The fibers are versatile, enabling surgeons to easily access difficult-to-reach anatomy by using one of the designated Lumenis handpieces, flexible endoscope or with robotically assisted technique. Lumenis CO₂ laser fibers feature high, consistent energy transmission, renewable tip, and aiming beam. All features allows easy adoption, highly controlled and precise tissue interaction.
The CO₂ laser fibers can be used to treat a wide variety of applications including Otolaryngology, Head & Neck, Otology and Gynecology. For Head and Neck, Transoral Laser Microsurgery, the CO₂ laser fibers are revolutionary. While the TLM technique was perceived as a rigid surgical approach until recently, with the introduction of the CO₂ laser fibers, it also represents flexibility: A Surgical approach where compliance to flexible endoscopy and robotic surgery is possible and treating precisely on hard to reach anatomy is achievable.
For Gynecology, the CO₂ laser fiber is a game changer. The ability to treat delicately and in a flexible manner near critical structures is key to obtaining precise and controlled tissue interaction while maintaining the preservation of valuable organs.
Single use CO₂ Laser fiber
The FiberLase CO₂ laser fiber is a class of its own. A high quality, durable & flexible fiber served with a collection of dedicated operational tools.
FiberLase allows you to expand from the operating room to the outpatient environment save costs, reduce the risks of general anesthesia and enable periodical treatments of recurring conditions.
Exclusive features:
Aiming Beam: precise targeting and great visualization of treated tissue
Easy to use: short learning curve and easy adoption to the surgical sphere.
Renewable Fiber Tip and Durable Use: The tip can be cleaved and revived during use, facilitating a smooth operation and cost effectiveness.
2M Long Fiber: greater maneuvering and flexibility in the surgical site.
High Energy transmission: for reproducible and highly controlled tissue interaction
Click here to download the FibreLase Brochures:
1. Fiberlase