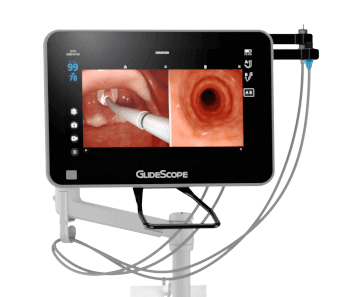 GlideScope® Core™
GlideScope® Core™, the most comprehensive and
flexible airway visualization system for video laryngoscopy,
bronchoscopy and multimodal airway procedures.
GlideScope Core is an all-in-one system offering immediate access to the tools
you need to visualize the airway and tracheobronchial tree. Designed around an
HD, touchscreen monitor and comprehensive workstation, GlideScope Core
delivers elevated visibility and improved workflow.
The more tools you have at hand the better
GlideScope Core is compatible with GlideScope's extensive portfolio of video
laryngoscopes and BFlex single-use flexible bronchoscopes. Treat routine, difficult and
emergent airways quickly with the broad portfolio of GlideScope visualization tools.

GlideScope® BFlex™ is a single-use bronchoscope designed with exceptional image quality and maneuverability for difficult airways and bronchoscopy procedures.
Single-use means easier access to bronchoscopes when you need them and faster setup so you can start turning over more cases in less time.
• No downtime associated with reprocessing or repair
• Low cost of acquisition when compared to reusable bronchoscopes
• Transport and setup throughout the hospital with ease
• Works with a variety of airway tools
• Minimize the risk of cross contamination with single-use bronchoscopes
GlideScope® BFlex™ delivers exceptional visualization of the airway with excellent image quality and clarity.
• Dynamic Light Control® adjusts image brightness to help you drive the scope quickly and better identify landmarks

• Wide field-of-view assists with better anatomy visualization

• Anti-Fog technology reduces camera fogging during use

• Connects with GlideScope® Core™ for viewing multi modal airway procedures – simultaneously

• Connects with compatible GlideScope video monitors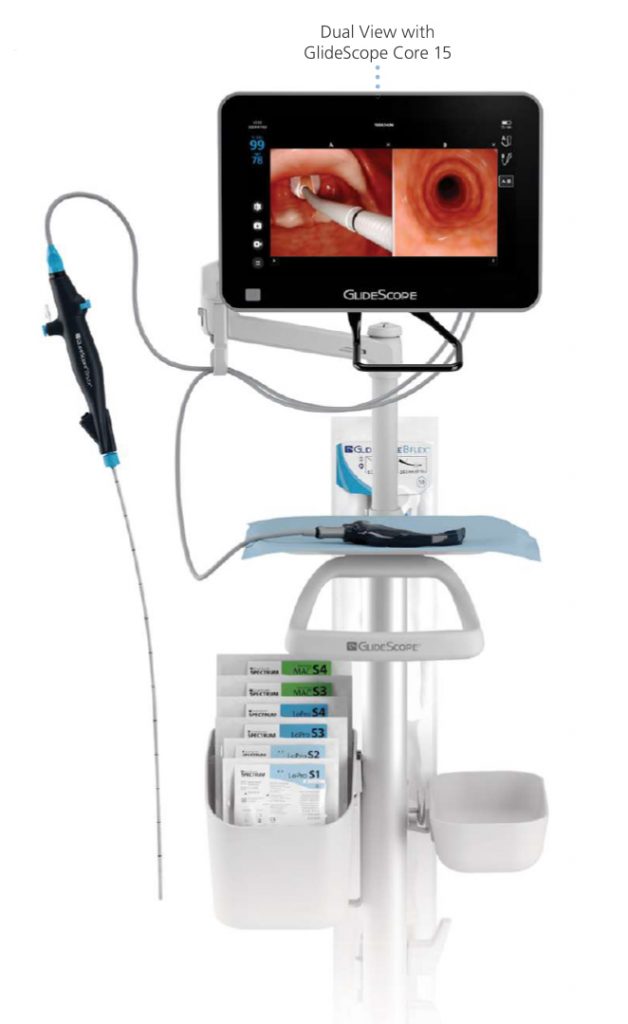 GLIDESCOPE SPECTRUM SINGLE-USE
GlideScope® Spectrum™ Single-Use video laryngoscopes combine low profile blades with the latest advancements in lighting and camera technology.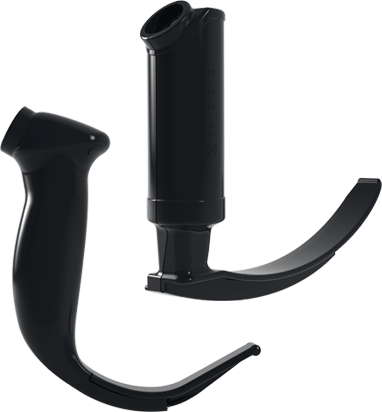 GlideScope offers the widest range of single-use
video laryngoscopes
9 single-use video laryngoscopes — the angulated LoPro S1, S2, S2.5, S3, S4 combine the performance of a GlideScope video laryngoscope with the convenience of a single-use instrument. The DirectView MAC S3 and S4 and our newest Miller S0 and S1 blades provide the familiarity of a direct laryngoscopy-style blade with the confidence of a GlideScope.