Polysomnography
Embla® RemLogic™ Software
Embla RemLogic Software is ideal for all PSG study types, ranging from the basic detection of obstructive sleep apnea to more complex studies that require additional EEG and DC channels. RemLogic exceeds the American Academy of Sleep Medicine (AASM) scoring criteria and contains an abundance of customizable options that allow you to tailor data acquisition and scoring preferences to best suit your needs. RemLogic also offers time-saving tools that streamline workflow and maximize efficiency.
Key Features:
Score studies efficiently with single-click event placement
Patient charting tool automates paper charts
Flexible recording profiles
Effective study navigation using data trends and event lists
Powerful study import/export tools
Windows® 10 compatible
Host of predefined or customizable reports
Reports are available in multiple file reports: pdf, txt and rtf
Standard or HD video options
Embletta® MPR Sleep System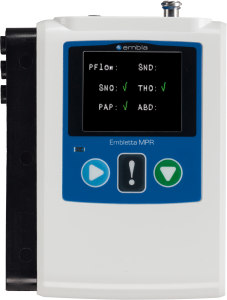 The Embletta MPR Sleep System is scalable from Type IV to Type I PSG testing. The foundation of the Embletta MPR Sleep System is the Embletta MPR, a fourth generation ambulatory sleep recorder designed to be reliable and easy to use offers 7 channels of data. The LCD on the device facilitates signal quality checks bedside without the need for a computer. The Embletta PG offers 12 channels of collected data and can be interfaced with the ST Proxy for 8 additional channels or the ST+ Proxy for 16 additional channels to meet Type II ambulatory recording requirements. Finally, the addition of the TX Proxy adds Differential Pressure and 6 DC channels with the ability to record online when used with RemLogic software.
Key Features:
Scalable channel configurations
Bio-Sensor Auto Start
Operates on two AA batteries
Multi-night recordings
Can be programmed for scheduled recordings