Cook Medical Ciaglia Blue Rhino G2 Advanced Percutaneous Tracheostomy Introducer
Intended for percutaneous dilational tracheostomy for management of the airway in adults only. Tube placement, using the technique described herein, should be performed in a controlled setting (e.g., ICU or operating room) with the assistance of trained personnel.
Features and benefits
The crosshatched handle helps enhance the operator's grip to improve procedural control.
The longitudinal grooves have been implemented on the distal surface to help facilitate a less forceful insertion.
Krober O2 Concentrator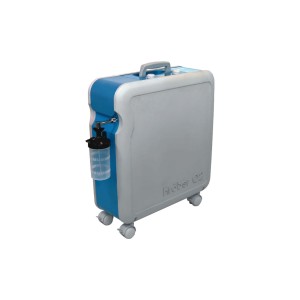 The Krober O2 is an oxygen concentrator made in Germany that enables patients to receive their treatment from the comfort of their homes.
Key features of Krober O2
Whisper Silent – Kröber oxygen concentrator is whisper silent and the most quiet in the market. It produces only 35 dB. This is especially useful when it is running all day. With its sleek modern design, carrying handle and rollers, it is easy to move the unit around the house.
Made in Germany -Precise engineering and advanced technology, with assured quality control. Krober oxygen concentrator is made with two easy-to-reach filters: dust filter and input filter. It is recommended to clean the dust filter weekly and change monthly. The input filter should be changed annually.
Easy to read – The digital display with illuminated background allows you to see exactly what the status is. It will tell you how much oxygen the concentrators gives. It also shows any warnings.
Weinmann Tracheostomy Exchange Set